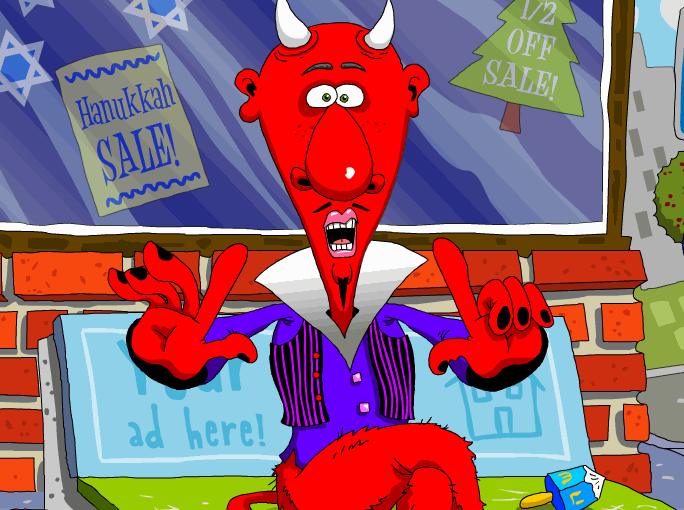 Funny Online Christmas Cards Featuring Santa, Frosty the Snowman, and Rudolph the Red Nosed Reindeer
But Baby It's Cold Outside!
Sleigh bells! Silver bells! Chapel bells ringing! All kinds of people outside and singing! Joyful noises are pitched ever so high as choirs and carolers trill to the skies. Garlands and tinsel and twinkle lights blinking in colors so bright that everyone's thinking of Sugar Plum Fairies and Nut Crackers Sweet which bakers and chefs dare you not to eat! There are mountains of cinnamon and rum cakes a plenty with peppermints and cookies iced with benevenuti. What can one do to compete with ALL that when wanting to send cheer to a lady or chap? For family and friends of every kind we at RCC have cards which no one will mind!
Funny Santa Messages and Animated Christmas Reindeer Greeting Cards
Nog is No Laughing Matter!
Rubber Chicken Cards honor the seasons with unique Hilarious Animated Christmas Ecards Greeting for every reason. For Christmas is something at which we excel bringing light heart and cheer to those you love well or even to those you can't really bear but HAVE to send SOMETHING to say that you care. From smoothe De La Noche to kilt sporting McFadden we've every greeting to make all hearts gladden.Louise, our chief angel will chipper and soothe and make Christmas glow brighter with her every move.
Here We Come A-wassailing
We're musical, hilarious, sweet and quite smart. We'll dazzle each send and while warming each heart. So say Happy Christmas! Glaedelig Jul! Bo Nada! Kala Christouyenna! Shen Dan Kuai Le! Yukpa! Joyeux Noel! Feliz Natal! Nadolig Llawen! Vesele Vianoce. Nollaig Chridheil dhuibh. Maligayang Pasko. Frliche Weihnachten! Mitho Makosi Kesikansi, Mele Kalikimaka. Ku odun, e ku iye'dun. Meri Kirihimete. Hyvaa joulua. Mo'adim Lesimkha. Chena tova! Feliz Navidad. Buone Feste Natalizie. How ever you wish your Christmas joy to express the RCC cards will speak for you best!
Yes, Virginia there IS a Veronica!
Plus pay ye attention to what one of our brawking Rubber Chicken Card friends says about our Christmas Ecards: "Dear Cluckers. I was looking for an online Christmas ecard and found Rubber Chicken Cards along with a number of others, like thousands of others. When I clicked on the other sites, all I got was sappy and/or not very funny. Well, you good folks at Rubber Chicken Cards are actually funny. I laughed and laughed and then signed up and starting sending. You know, my friends laughed just as much as I did and thanked me profusely - at least most of them. Not Dave though. Dave didn't thank me at all. Anyway, thanks for the great ecards. Really!" - Veronica, Dallas, TX.
Hilarious Animated Christmas Ecards Greeting For Everyone, Even Cindy Lou Who
"P.S. And not Cheryl either. She's SUCH a Grinch!" Also we want to be sure that you are aware, we have taken the last couple of years to honey-prepare our line of Sweet ecards, Sweet Chicken Cards AND our newest addition of holiday post cards. In this way, we can give you terrific Christmas ecards of all sizes, tones and shapes. Even Rube Goldberg's tova tree lights for our sakes!
sign up for a free trial account here
, to send unlimited free greetings for 10 days!